Coffee On Top | Puig d'Arques | Chapter 5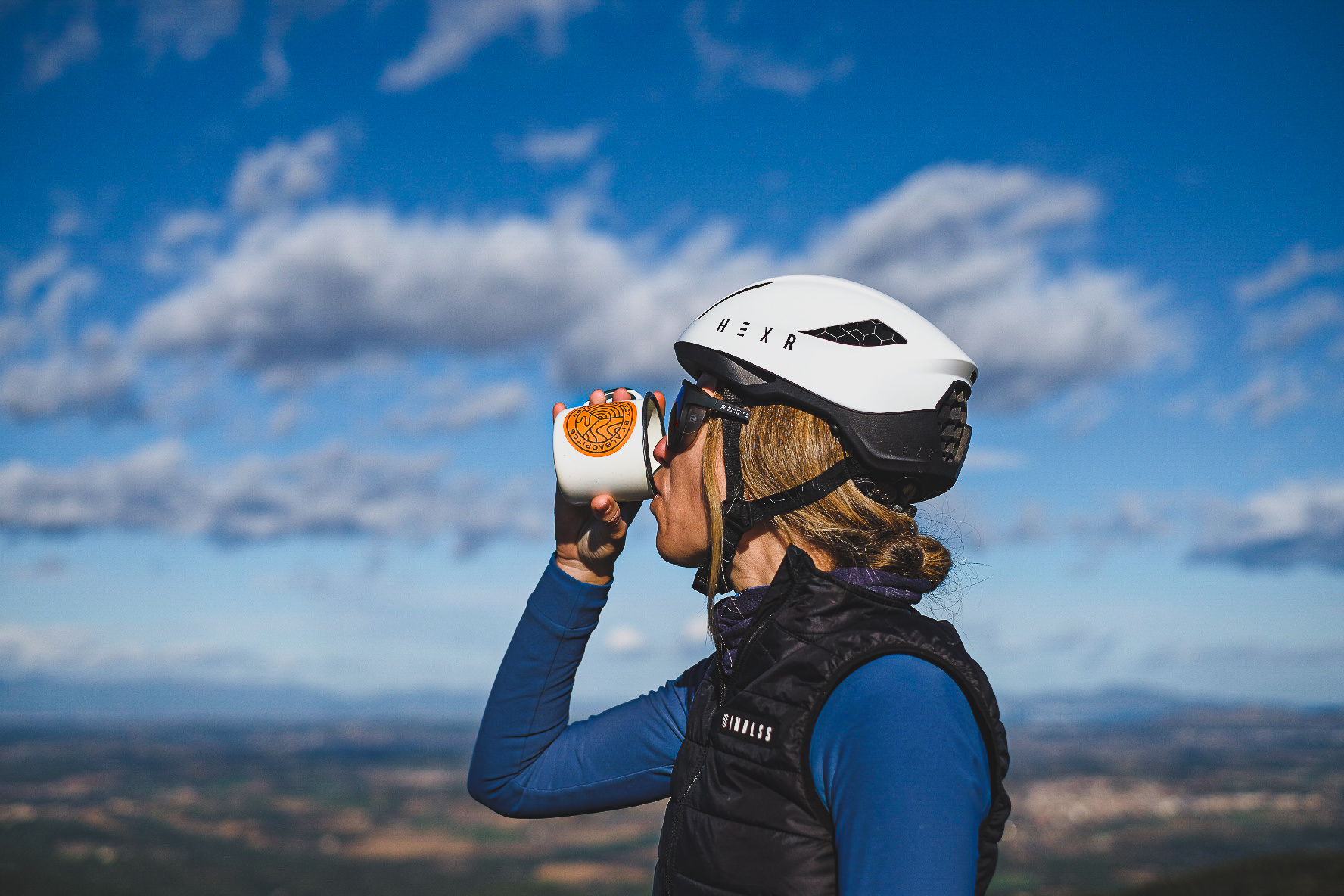 Coffee on top represents a new type of cycling, not about watts, not about time. Just a day out with our bike and a good coffee with a simple rule; I make the coffee, you bring your fav mug and we share it on top of a climb.
I was saving this climb for her for different reasons. First of all, she never climbed, it's a climb around her childhood area and the views of the whole Girona area is stunning, so it was the perfect climb to bring Irene for a coffee on top with her.
But before to start our ride we had a surprise on a box. Our friends from Alba Optics send us a box with a note saying; new product, you are the first one to see it. She did the unboxing and WOW!
Inside it was a cozy blanket under the ANVMA branding one of the brands from Alba Optics we feel it represents us more. Made in Italy, the blanket it's just amazing, perfect to use it at home on the sofa and to bring it for a gravel adventure, so we did the coffee, set up the bag with the blanket, choose our mug and ready to roll!
For this coffee on top I chose Ethiopia origin from Cafès Cornellà, it's one of the first Speciality Coffee I tasted with her and we love it on filter coffee.
We roll out from via verda before start climbing Gavarres to follow up until the top. Gavarres is one of the better places to do gravel in Girona, true has a lot of steep climbs, but views are worthy.
We arrived at the top of the Puig D'Arques the highest point at the Gavarres and the 360 views on the top are amazing, you can see the Pyrenees mountains and the see….what a perfect spot for a coffee after a ride.
After the coffee and few photos, we had a decent by road until via Verda at Llagostera to take again the via verda to have our way back to Girona.
Hope to discover different climbs thought this kind of rides, and hopefully, when this covid thing goes away we can share it out of the screen.
See you at the top with a coffee!
HERE YOU CAN FIND THE ROUTE AND VISIT MY COLLECTIONS TO FIND MORE INTERESTING RIDES TO DO.