Gravel trip to Bardenas Reales – #Gravelaso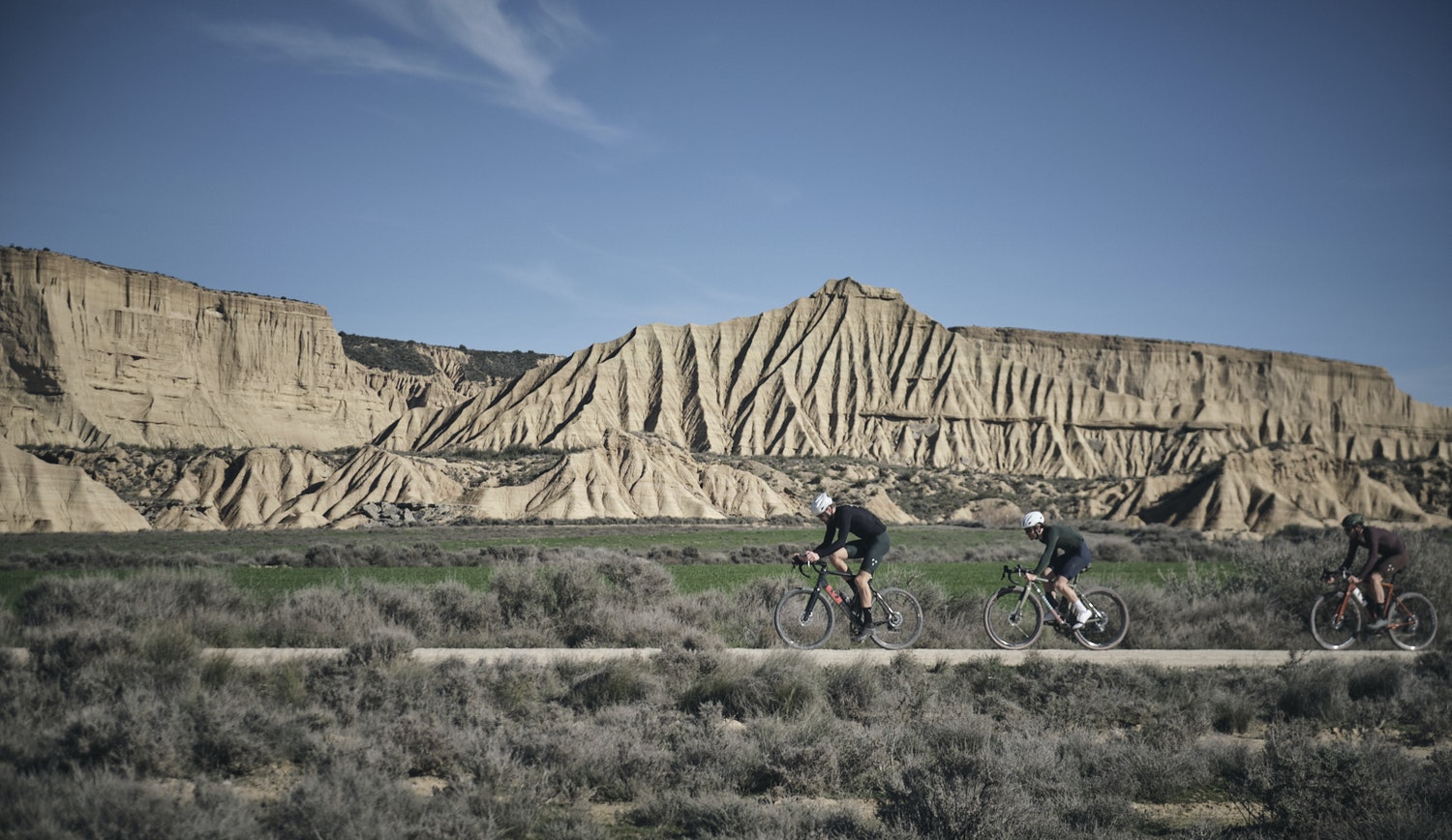 It was my last cycling ride outside and until today I haven't had a look at the photos. Last February Velodrom Barcelona, a cycling store in Barcelona, organized a gravel trip to Bardenas Reales, a unique area in Spain to enjoy a full gravel experience.
We were ready to spend a whole weekend there with passionate cyclists ready to roll and discover a new area with all types of gravel bikes.
Saturday we had an easy gravel ride, with our camera and enjoying the views. To be honest, the views are amazing on all the way, a dessert zone and with no cars allowed to go inside the park makes Las Bardenas an excellent good option for an authentic gravel weekend experience.
Sunday it was the official gravel ride, more people joined at the starting point. Glad to see a lot of friends and cyclist we shared other gravel adventures on the past, and how the number of people trying this type of cycling is increasing, the starting point that Sunday was full of new faces.
In front, we had a 120kms on the middle of the desert of Bardenas Reales, with one food point on the middle. You have nothing inside the park so if you are planning to spend a weekend here, take extra water and food just in case!
The groad was really clean and fast, and we had an initial climb that brought us to a 600m with impressive views, weather was really good and the sun was following us all the way. After this climb, we had a fast descent followed to a flat area where I was riding with my friends Xavi and Sami until the food station.
It was hot so we really appreciate it some food and fresh drinks. 60kms were waiting for us to end the gravel ride and 10 minutes after we left the stop point I had a really bad crash and I broke my collarbone, so my ride ends it not the way I was expecting.
Again thanks to Velodrom Barcelona not just for the amazing organization, also to be with me until the boys from The Draft came to rescue me with the van and bring me to the hospital, and my mates Xavi and Sami to be with me at the Hospital and drive me back to Girona.
I had bad luck but I felt in love with the area, and I hoping to be able to ride back to Bardenas with my gravel bike and enjoy a nice weekend cycling and hopefully this time without any accident.
If you like gravel, save this location as one of the best gravel destinations in Spain.
Thanks tour pics for the photos!
---
I enclose here the two gravel routes we did in Bardenas reales in case you are looking to have a trip there.
Sunday
Saturday
---
Gravel essentials for this trip
Bike: 3T Exploro Team force/etap eagle
Sunglasses: Alba Optics Anvma
GPS: Wahoo
Handlebar Bag: Endless edition
Cycling Kit: PEdALED Odyssey bibs & Jary merino jersey
Shoes: Fizik Terra powerstrap X4